THALES TO WORK WITH KRAKEN GROUP ON NEW MARITIME GUNSHIP
Capable of 65 knots (nearly 75mph) fully laden, the KRAKEN is a built-for-purpose, ultra-high performance offensive platform, designed for solo operations or swarmed force projection to protect assets at sea.
Heavily-armed with missiles, Miniguns, 30mm canon, torpedoes and designed for rapid precision engagement, it is not a sight any would-be adversary would want to see coming over the horizon.
Designed by British-based Kraken Technology Group (KTG), the KRAKEN will be built at a new advanced engineering and technology centre in the UK.
The development of the platform has also taken another step forward with the recent announcement that the company has signed a Memorandum of Understanding with Thales for the development and provision of bespoke systems.
Thales in the UK will provide the ability to integrate a range of sensor and weapons equipment on board with scalable command and control, communication and networking systems.
The memorandum has also identified the world-leading Thales Lightweight Multi-role Missile (LMM) as a candidate for integration onto the platform.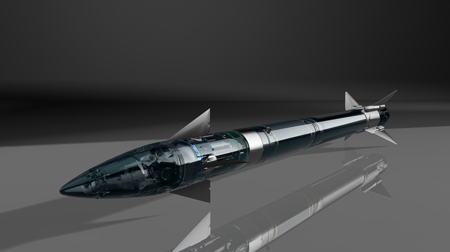 Ivor Humphrey, Business Development Executive at Thales who has been working with KTG, said: "LMM has a proven capability in air defence and surface attack and is able to defend against a number of threats, including fast inshore attack craft, unmanned aerial vehicles and fast jets.
"The system also complements perfectly Kraken's key design principles of multi-role thinking, high performance and modular adaptability."
"When combined with Thales's suite of sensors, communications and decision support systems, it becomes a formidable and potent capability."
This integration is in conjunction with Thales's other partners MSI-DSL, who are developing a new lightweight launcher matched to LMM, as well as remote weapon stations for several other gun systems on board.
Mal Crease, Founder and CEO of Kraken Technology Group, said: "We are exceptionally pleased to be teaming with one of the most well-respected names in the defence and security industry.
"The K50 platform is a game-changer for a number of reasons. We have designed it as the spiritual successor of the renowned allied Motor Torpedo Boats and PT Boats of World War Two. These boats were small, but armed with unmatched speed and firepower to hunt in packs both in offensive and defensive capacities.
"K50 KRAKEN is about performance. The top speed of 65 knots is based on a fully laden condition, designed and engineered from the keel up to operate as a fully integrated weapons platform, which far exceeds anything currently available. It will push boundaries in every respect.
"It can operate solo, but is also designed to collaborate in swarms both offensively and in deterrent modes. The Motor Torpedo Boats were revered as the 'Spitfires of the Seas', and we see the KRAKEN in much the same way in today's context, as the maritime 'Apache of the Seas' – a formidable, fast threat and a visual deterrent to hostile actions."
Kraken Technology Group has a strong pedigree in high performance technology, but also draws on the experience and expertise of former UK and US special forces military personnel in its team.
Mal added: "The input of the ex-operators is crucial. The KRAKEN is not an adapted patrol or insertion boat rebadged as a gunship. It is a dedicated design, tailored for high-speed precision-engagement, with end-user insights of the fast-paced reality of littoral operations and the need for integration and modularity being key.
"It is designed for a fully laden top speed of 65 knots which is a real market differentiator. It has a cruise speed of 50 knots and a range of 400 nautical miles which can be significantly enhanced through the use of extended-range fuel tanks.
"We know that the threats in the maritime environment are ever changing and believe that the KRAKEN will directly address the interdiction, interception and fast patrol needs of navies, border patrol and law enforcement agencies around the world."
https://www.thalesgroup.com/en/countries-europe/united-kingdom/news/thales-work-kraken-group-new-maritime-gunship